by: Raine

---
*Squee* So happy!
While this episode wasn't as funny as the last, it really started to get some plot gears turning. I'm so impressed show. You totally came back from the first two episodes. I'm the happiest recapper EVAR.

"Cheongdam-dong Alice" features Moon Geun-young, Park Si-hoo, So Yi-hyun and Shin So-yul
Episode 4 recap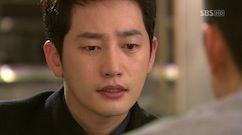 Psycho-jo realizes that it was Se-kyung who finally allowed him to cry.
The Tick hands Se-kyung her the package of evil "get rich" spells and tells her to do the rest on her own; she doesn't want to have anything to do with Se-kyung. She will,however, help Se-kyung get started. If she accepts the book, they are completely settled.
Inside, as we saw last episode, is the journal with the watch and key. Se-kyung opens it with bated breath and inside is a journal, a how-to for becoming an evil tick.
The first written page reads at the top:
Chapter 1: If you're going to be black, make sure you are black all the way!
Why do I smell trouble? Se-kyung is our resident nice girl. This should be interesting, watching her fight her nature. That, and poor Psycho-jo is going to have a hard realization to cope with when he finds out.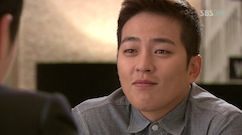 Psycho-jo worries about Se-kyung and hopes she isn't blaming herself for In-chan's actions. And he freaks out that she might be having "those thoughts" (suicidal). Dong-wook asks with a smirk if he likes Se-kyung. Psycho-jo immediately starts blustering excuses and declares that he's healing when Dong-wook asks why he's acting like her Daddy Long Legs.
Man, k-dramas love using that concept. Wasn't the movie depressing?
When Se-kyung comes in, mom and Se-jin pepper her with questions about the Tick. Dad interrupts them and announces that he put the house and the bakery up for sale. He apologizes for being unable to do more even though he thought that he'd be more by this age. He has no house under his name to pass on to his kids; he only has $5,000 left from selling the bakery.
Everyone cries.
I think it was a wise decision on his part even though it's really heartbreaking.
Se-kyung goes in for a training session with Coach Tick. I feel like this makes the Tick more the White Rabbit than Psycho-jo, but that's just me. Anyway, it's time to make Se-kyung a dirty tick. The first chapter deals with seduction and pain although Coach Tick has no idea how it will go down for Se-kyung. But that doesn't matter, Se-kyung is prepared to cross to the dark side.
Chapter 2: Find the White Rabbit
The White Rabbit led Alice to Wonderland and Se-kyung needs to find her guide into Cheongdam-dong.
Coach Tick describes a super upscale French restaurant, Etoile, that is ridiculously expensive, but there are women there all the time to meet designer Tommy Hong: the fastest way into Cheongdam-dong.
So he's the White Rabbit? Show, you're leading ME down the rabbit hole of confusion.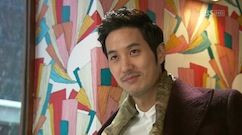 Coach Tick appears in Etoile as a narrator, which is a cool directorial decision. She explains that Tommy Hong started domestically-trained working for madam's as a personal coordinator. Then he moved onto their daughters - as a matchmaker. Fifty-eight successful matches and more people waiting in line.
This designer/matchmaker will lead Se-kyung into Cheongdam-dong. It's not appealing to Se-kyung and Coach Tick makes fun of her for hesitating. Before anything, Se-kyung needs to at least meet him, the Tick instructs. She doesn't have the connections to any wealthy people in Gangnam (where Cheongdam-dong is located) and will need time, effort (!) and money to even get one connection.
How does she find her White Rabbit? Se-kyung asks. Coach Tick gets annoyed that she needs to spell everything out for her student. But Coach Tick is feeling magnanimous and tells Se-kyung to meet her tomorrow at the fancy restaurant, Etoile, at 4pm with an items Se-kyung thinks is Cheongdam style.